New York Mold Inspections & Mold Testing
Mold can present itself in a wide array of shapes, sizes, and colors, attaching itself to surfaces or existing in the air. Mold spores are microscopic, which means they can often be invisible to the naked eye. This is why you need a mold test or mold inspection.
Why should I get a mold test?
There are a variety of reasons why you would want to get a mold test in your home or business, it could be due to visible mold presence, a musty smell or allergic symptoms, even as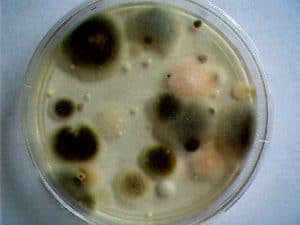 a preventative measure if water or excessive moisture is present for an extended period.
Mold Inspection when Mold is visible
If mold is visible, you may or may not need a mold inspection depending on the location. If mold is present behind your walls you most definitely need a mold test, often this is signs of a mold infestation and mold can exist in multiple locations throughout the property. When you spot mold in multiple isolated locations throughout a property it is also recommended that you get a mold test, because it is likely to present in areas that you have not checked or cannot see.
If you spot mold in your bathtub, or in a small location under your kitchen sink it is likely that you do not need a mold test. These locations are often isolated instances and are not signs of a widespread infestation.
Mold Test when you suspect the presence of mold
If you can not see mold, but often experience allergy symptoms when in a home or business it is a good idea to get a mold test. If a home or business has a musty smell, it is also a good idea to get a mold test. A musty smell or allergy symptoms are both very common signs that mold is present whether it be behind a wall, in the air or in your HVAC system.
Mold can bring with it adverse health effects if you experience these symptoms you should not brush them off. If mold is present, the longer you put off a mold test the more it can spread, and the more damage it can cause to your property and health.
Precautionary Mold Test
If you recently experienced a water damage and your home or business remained wet for an extended period, or if you home or business is excessively humid it may be a good idea to get a mold test. A mold test will identify the presence of mold before it spreads and shows visible or noticeable signs if it is caught early.
New York Pro Inspections is a licensed & insured mold testing company, we have been serving Long Island, New York for years and treat each client as a person, not a job number.
If you suspect the presence of mold in your home or business or have questions about mold testing call New York Pro Inspections at
516-317-0129